CISAC Vice President Angélique Kidjo calls for action to protect digital rights of creators
Singer-songwriter urges laws to protect the next generation of artists
CISAC Press Release – Berlin, 11 November 2019 – Global superstar singer-songwriter and CISAC Vice President Angélique Kidjo has launched a passionate appeal for governments to do more to protect the rights of creators in the digital world.
Speaking at a conference in Berlin, Kidjo said stronger legislation is needed to ensure that artists get paid when their music is used on digital platforms.  She was speaking at "Initiative Urheberrecht", a conference on the implications of the new European Copyright Directive, adopted by EU governments in April 2019.
Kidjo, who has been a global champion for the rights of musicians and other creators in her role for CISAC, said her successful career, starting from age of 11 in her native Benin, had been dependent on respect for artists' rights.
"I want to call on policy makers to preserve the rights of creators, because a society without culture, music and art is not a society.  Don't just think about copyright and artist rights – think about the lives of the artists that they are impacting and the next generation of musicians", said Kidjo.
"Put legislation in place to protect you, your children and the next generation of artists.  Let's do right for the next generation of musicians across the world. Authors rights and copyright are a human right and if you don't believe that, we are all in trouble."
More fairness for artists needed
Kidjo said more fairness was needed in the way artists are treated by the big global digital platforms.  "Artists are needing more than ever to fight for their rights. If our content makes the digital platforms like Google and YouTube rich, why can't we have a cut of that? It is our music on their platforms – they are not writing for us."
She called for fair treatment and respect of creators, and an understanding that they must be paid fairly for their work.
"Policy makers, we look to you: copyright and authors' rights are not something that can be seen as a privilege. Artists work for those rights. I spend hours writing music, it is hard work for artists, and it makes them vulnerable. It is not easy to create music. Anyone who thinks it's easy to write music, I say to them "go ahead". Today, with new technology and the internet, it is more important than ever to say that when an artist works, they deserve to get paid."
"Initiative Urheberrecht" brings together experts from government and the creative sector to discuss the future of copyright and authors rights.
Kidjo spoke alongside other keynote speakers, including Minister of State for Culture and Media Prof Monika Grütters MP and best selling author Nina George.  The full conference schedule and information about all speakers is available here.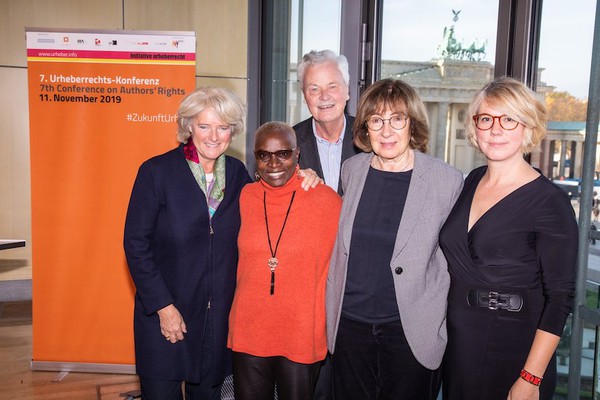 Prof. Monika Grütters, Minister of State for Culture and the Media, Angelique Kidjo, Prof. Jeanine Meerapfel, President of the Academy of Arts, Prof. Gerhard Pfennig, Spokesperson of the Initiative Urheberrecht and Nina George, Writer and President European Writers Council. Photo ©: CISAC
About CISAC
CISAC – the International Confederation of Societies of Authors and Composers – is the world's leading network of authors' societies (also referred to as Collective Management Organisations, or CMOs).
With 232 member societies in 120 countries, CISAC represents over four million creators from all geographic regions and artistic repertoires including music, audiovisual, drama, literature and visual arts. CISAC is presided over by electronic music pioneer Jean-Michel Jarre and the organisation's vice-presidents are: Beninese singer Angélique Kidjo, Argentinean film director Marcelo Piñeyro, Spanish visual artist Miquel Barceló and Chinese film director, scriptwriter and producer Jia Zhang-ke.
CISAC protects the rights and represents the interests of creators worldwide. Founded in 1926, it is a non-governmental, not-for-profit organisation with headquarters in France and regional offices 
in Africa, Latin America (Chile), Asia-Pacific (China) and Europe (Hungary).
www.cisac.org | Twitter: @CISACNews | Facebook: CISACWorldwide